Beacon Hill Real Estate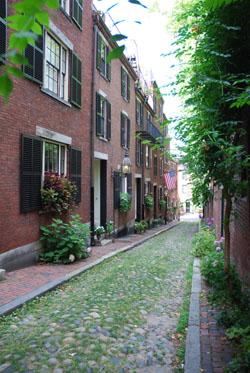 The Beacon Hill neighborhood of Boston has a strong backing as the most historic, and charming area of the Hub. Historically, the beacon that used to be at the top of this hill would warn settles about foreign invasions. Now, the famous lighting in the neighborhood comes in the form the gas lamps that still line all of it's streets and alleyways. Furthermore, the gold leaf of the State House Rotunda adorns the hill and shines above the neighborhood. With cobblestone streets, a rolling hill, and historic untouched brick buildings, taking a stroll through Beacon Hill feels as though one is going back through time.
Beacon Hill neighbors the Boston Common and Boston Public Garden, the Back Bay of Boston, and is close to the Downtown/Midtown area as well as the North End and West End. Only 26,000 individuals are fortunate enough to call Beacon Hill home, as not only does real estate cost quite the pretty penny here, but the small neighborhood further justifies the exclusivity of these unique homes.
The busiest street is Charles Street. It is here where there are countless small grocers, mom and pop shops, world class restaurants, and much more. Other points of interest here include the Unitarian Universalist Association, Louisburg Square, the famous Acorn Street built in the late 1820's, Mount Vernon Street known as 'The Finest Street in America', Bull and Finch Bar which inspired outdoor shots of the show Cheers, Suffolk University, the Museum of African American History, the Nichols House Museum and the Park Street Church. For such a quaint neighborhood with so much history, charm, and the utmost in preservation seen throughout, it is no wonder that this timeless wonder that is Boston's Beacon Hill is so sought after year after year in real estate.
Other Boston Real Estate Markets