The Fenway Real Estate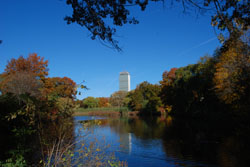 The Fenway neighborhood of Boston is one of the fastest developing areas of the city. Perhaps most famously known for being the home of America's most beloved ballpark, Fenway Park, there is also some prime real estate and an amazing lifestyle that can be had living here.
The area, also referred to as Fenway-Kenmore, has seen a great deal of investment over recent years from new developments to the renovation of the many beautiful brick homes. From an array of condominium complexes, hotel towers, and massive improvements to the public transportation options such as the MBTA Green Line, much is happening today in this growing neighborhood. There are also world class universities that are developing and improving their facilities and the entire area that comprises the total 1.24 square miles that the Fenway neighborhood consists of.
With the improving infrastructure, there have also been an influx in top restaurants and nightlife options. From the House of Blues that is constantly featuring some of the top musicians from across the globe to the famous bars and restaurants that line Fenway Park, this is certainly an exciting place to live. With new shopping centers and other forward thinking approaches being taken to further establish this as a neighborhood first, entertainment area second, the Fenway/Kenmore area of the future is going to be something that is full of potential and prosperity.
Other Boston Real Estate Markets