Neighborhood Guide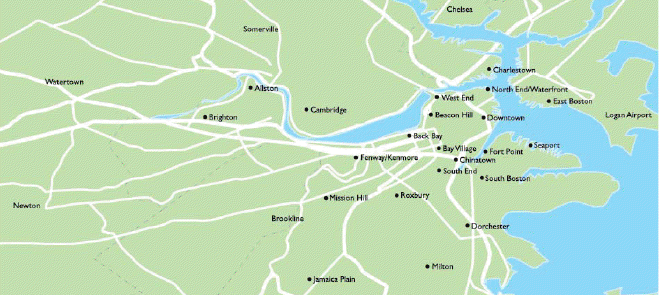 Allston Real Estate
Allston is a diverse and thriving hub of activity. Largely populated by students and young families, Allston caters to the individual looking for larger space at a lower cost. Its street are largely populated by specialty ethnic grocery stores, discount furniture shops, thrift stores, casual eateries, and live music venues. It is served by many bus lines, as well as the MBTA Green line.
Back Bay Real Estate
The Back Bay lays claim to some of the most exclusive real estate in Boston. A stroll down Newbury Street will take you from haute couture to haute cuisine, offering exclusive fashion boutiques and elegant restaurants with world renowned chefs. Commonwealth Avenue has some of the most elegant townhouses in the city, along with the pedestrian-friendly Commonwealth Avenue Mall - a picturesque, tree- lined green, dotted with sculptures and park benches. Marlborough Street has become a lovely refuge from the bustling shops. Back Bay is also home to the Public Gardens, Boston Common, the Charles River Esplanade and the historic Boston Public Library. Read more about Back Bay real estate.
Bay Village Real Estate
Over the years, Bay Village has been known as the Church Street District, South Cove and Kerry Village. Many of the homes look like smaller versions of Beacon Hill townhouses because the craftspeople who built the Beacon Hill residences settled in this area and built local residences for their own use. IT once housed major players in the film industry such as MGM, RKO and Pathe. In 1983, the City of Council enacted an ordinance forbidding exterior alterations in Bay Village without the approval of Historic District Commission. It is a charming neighborhood and is convenient to Back Bay, Downton and the South End.
Beacon Hill Real Estate
The beacon on this hill that used to warn settlers about foreign invasions is long gone, and today Beacon Hill is a close-knit community in a downtown location. The neighborhood's cobblestone streets and brick rowhouses directly border the Boston Common and the Public Garen, American's first botanical garden. The gold leaf of the State House Rotunda adorns the hill and shines across the Common. The base of the hill is home to Charles Street, with its charming boutiques, antique shops, specialty grocery stores and romantic dining establishments. This historic neighborhood offers some of the finest classic Boston architecture, including Louisburg Square. Read more about Beacon Hill real estate.
Brighton Real Estate
Brighton is similar to neighboring Allston, but with a little less activity. The neighborhood, which is primarily populated by graduate students, young professionals and families, consists of an intricate network of streets lined with houses and small apartment buildings. Local family businesses mix with national chains of pharmacies and banks along Brighton's Washington Street, which runs through Brighton Center to Oask Square.
Charlestown Real Estate
Charlestown, located at the head of Boston Harbor, is essentially a 19th century village with 16th century roots. Its historical heritage has given it a charming gaslit ambience that is appealing to young professionals who have recently moved to the neighborhood, joining families who have lived in Charlestown for generations. Charlestown's street are lined with townhouses and workers cottages, as well as modern condominiums that are either newly constructed or converted from historic buildings. The Navy Yard and the adjacent harborfront are also home to many condos and offices, as well as numerous businesses, Mass General Hospital, and of course an Urban National Park. All agree that it is convenient to take public transportation or Harbor Ferry to Downtown Boston.
Chinatown Real Estate
Chinatown is bordered by the Rose Kennedy Greenway and Boston Common. More than most other areas of Boston, it houses a wide range of restaurants, retail and office space. Residential properties co-exist with family owned and operated businesses, local institutions and some of the best Chinese restaurants in the country. With four community murals and oldads still adorning the sides of brick buildings, a stroll through Chinatown is a cultural and historical journey through the past. Chinatown is also unique in due to its easy access via MBTA (orange, green, red and commuter rail lines are nearby) and major raodways.
Dorchester Real Estate
Dorchester is Boston's largest neighborhood and also its oldest, founded a few months before the city itself. The neighborhood's historical diversity is exhibited in its architecture, from the old Victorian homes of wealthy Bostonians to the multi-family dwellings of later groups of immigrants. Today, Dorchester retains its diversity. Its main thoroughfare, Dorchester Avenue, connects many close-knit neighborhoods and thriving commercial districts. Some of its well known neighborhoods are Savin Hill, Wellesley Park, Jones Hill, Ashmont and Lower Mills. Dorchester is also home to the University of Massachusetts at Boston and the John F. Kennedy Library.
Downtown/Midtown Real Estate
Downtown Boston is really the heart of the city. It is bordered by Back Bay, Beacon Hill and the North End/Waterfront. Many companies and agencies have their headquarters in the area. Boston City Hall and the State House are also located here. The area comes alive each weekday around noontime as thousands of corporate business folks and other downtown employees break for lunch or run errands. It is home to Faneuil Hall and Quincy Market, two of Boston's most famous tourist attractions. The Rose Kennedy Greenway offers a lovely eastern edge of the Downtown area. Read more about Downtown Boston real estate.
East Boston
East Boston is a very culturally diverse area. Though it is well known as home to the airport, East Boston is also full of wonderful stores and restaurants representing its different ethnic groups. Long-time Italian restaurants stand next to Brazilian cafes. Its housing is a mix of historic and new, with many three deckers lining its streets. In recent years, homeowners have been restoring the historic homes of the area to their former glory. It is accessible from the MBTA blue line. Read more about East Boston real estate.
Fenway/Kenmore Real Estate
The Fenway, perhaps best known as the "home of the Red Sox", is more than just a ballpark, it's actually a dense urban neighborhood with a considerable amount of green space (the "Fens"). Although the Fenway consists of a large number of college students, it also contains a significant population of professionals. Landsdowne Street, bordering the Mass Pike on the North and Fenway Park on the South, is home to many of Boston's most popular clubs and bars. Commonwealth Avenue offers a continuation of the townhouses of Back Bay. Fenway is also home to several universities, the Museum of Fine Arts and the Isabella Stewart Garden Museum. If you spend time in the Fenway, make sure to keep your eyes open for the occasional home run ball that clears the green monster. Read more about Fenway real estate.
Fort Point Real Estate
Tucked between the South End, Downtown, South Boston and the Seaport is Fort Point. Prior to the age of the automobile, Fort Point Channel was the critical link between docking ships and rail cars. Much of the land previously occupied by warehouses and manufacturing, has been developed for residential use. Fort Point boasts magnificent lofts with open floor plans that feature elements of original architecture. Artist studios and modern furniture stores are now neighbored by some of the more trendy restaurants in the city.
Jamaica Plain Real Estate
Yes, Jamaica Plain is a part of the City of Boston; no, it is not its own town. Diversity is the strength of "JP", to which it is lovingly referred by residents. This rich diversity has created a strong character of social awareness and community activity among neighbors and residents. Centre Street are home to lots of small neighborhood shops and restaurants. You can rent a sailboat on Jamaica Pond or count hundreds of varieties of trees in the Arnold Arboretum. Don't forget to see exotic animals at the Franklin Park Zoo.
Mission Hill Real Estate
Mission Hill was once filled with farms and most of the breweries in Boston. Today, Mission Hill is an architectural landmark district with a combination of freestanding houses built by early weatherly landowners, blocks of traditional brick row houses, and many triple-deckers. Many families and some students and staff from the nearby Longwood Medical Area come to Mission Hill for the affordable rents. A diverse community in proximity to downtown, Mission Hill offers its residents an excellent view of the city from an historic neighborhood.
North End Real Estate
The North End is most famous for its plethora of Italian restaurants and strong ties to Italian roots. With a different Italian Festival every weekend throughout the summer, there is rarely a dull moment in the North End. It is also home to the Old North Church, made famous by Paul Revere. Several recently built mid-rise buildings offer tremendous views of Boston Harbor, as well as access to nearby comedy clubs, restaurants and pastry shops. Read more about North End real estate.
Roxbury Real Estate
A drive through Roxbury is both a history lesson and a tour of a modern urban neighborhood. One of the oldest neighborhoods in Boston, Roxbury has long thrived on its proximity to downtown while retaining its neighborhood qualities. home to a great number of parks, schools and churches, a visitor can see Boston's history in the architecture and landmarks of the neighborhood. At the same time, Roxbury is a flourishing community with a multitude of housing options and a variety of ethnic shops.
Seaport District Real Estate
Due to its prime location on Boston Harbor, the Seaport District of South Boston has seen revitalization over the last ten years. In addition to a variety of residential loft buildings, there are many new hotels and restaurants. It is also home to the Institute of Contemporary Art and the new Boston Convention Center. The Seaport offers outstanding views of the harbor, both of the sailboats on the water and the skyline of Downtown. Read more about Seaport District real estate.
South Boston Real Estate
South Boston's residents are famous in town for their love of and loyalty for their neighborhood. Southie, as it is referred to by locals, boasts miles of beaches and waterfront parks that culminate in Castle Island. There, visitors can enjoy the Revolutionary War era fort, get a bite to eat at Sullivan's, play in the playground, fish off the pier or simply take a stroll. South Boston is densely populated and is known for tripled-deckers and row houses, but there are single family homes in the neighborhood too. South Boston is home to a great variety or bars, pubs and new restaurants. Year round, a visitor can find residents strolling up and down Broadway doing their shopping and greeting their neighbors.
South End Real Estate
The South End, with its blocks of Victorian brick row houses, upscale restaurants, and art galleries, has become one of the most popular places to live in Boston. It is a classic mix of old and new, any of the row houses underwent renovation starting in the 1960's. Today, the neighborhood is filled with a diverse mix of families and young professionals and houses a culturally diverse community and thriving artistic center. Trendy restaurants brush shoulders with coffee shops and Mom & Pop grocery stores along Tremont Street and its side streets all the way down to Washington Street, which is experiencing an artistic revival. Read more about South End real estate.
Waterfront Real Estate
Next to the North End sits a historic collection of wharfs along Boston's inner harbor, offering some of the most beautiful harbor views in the city. Man of the original buildings have been converted from warehouses into lofts and luxury condominiums. It is also home to the new Intercontinental hotel and luxury residences. Near to the North End, the Financial District, Haymarket and the Seaport, the Waterfront offers fine dining and shops along with splendid views of the ocean. Read more about Waterfront real estate.
West End Real Estate
The West End, considerably impacted by Urban Renewal of the 1970's, is a small but significant community tucked behind Beacon Hill. Historically an ethnically diverse and vibrant neighborhood, the West End today is home to Massachusetts General Hospital. It is a popular residential neighborhood for medical staff from many nearby facilities, as well as professionals who work Downtown. It is home to Charles River Park, a high-rise residential community convenient to Beacon Hill.
Belmont Real Estate
Belmont offers a wide range of real estate to its residents. From condominiums, to more traditional suburban real estate in the form of single family homes there is something for everyone regardless of your style. The community is primarily a residential suburb to the city of Boston and is best known for its Belmont Hill neighborhood, which is home to some of the finest single family homes in the area. Read more about Belmont real estate.